Jomtien Boathouse Restaurant
Located on Jomtien Beach Road at the corner of soi 8, Jomtien Boathouse Hotel is a very popular eating out experience.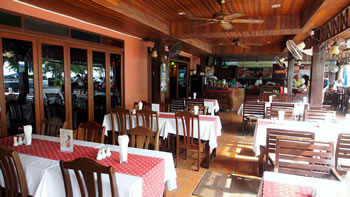 It is owned and manage by Danish restaurateur, Mr. Ib Ottesen who also runs the excellent and very well known Captain's Corner Steakhouse Restaurant in the grounds of The Residence Garden hotel on Thappraya Road.
Similarly, the Jomtien Boathouse has become a very popular restaurant and bar (seating 150 customers) with many tourists.
This is mainly because The Boathouse has a fantastic panoramic view over Jomtien Beach and offers a great range of delicious international and Thai cuisine to be enjoyed either in a romantic setting under the stars or in the airy nautical themed eating area.
Another reason for its popularity is of course the Elvis Presley experience; to be entertained on Monday and Tuesday evenings by the excellent Thai Elvis performer, Arthur Elvis, who is probably one of the best Elvis impersonators around.
The excellent menu includes a selection of appetizers such as Tiger Prawns and Onion Rings, Fried Mussels in Garlic Butter and Crab Meat Balls. There is a good range of salads available including the ever popular Caesar Salad and Salad Nicoise for.
The main courses include a very good selection of meat, seafood and fish dishes, plus an amazing brochette set meal combination of meats and seafood. The excellent Steaks such as Sirloin are very good value at 325 baht and half a kilo of Rib Eye costs 250 baht. A huge platter of Surf and Turf with giant Tiger Prawns and Sirloin Steak costs 350 baht.
There is a special Prawn Promotion on at the moment, with different Prawn dishes ranging from 195 baht to 220 baht; enjoy them  pan grilled, with spaghetti, with curry sauce or in the traditional Thai Tom Yam Kung (spicy prawn soup).
The Jomtien Boathouse is well worth a visit, especially on Monday and Tuesday evenings at 9.00 pm to have the pleasure of experiencing the Elvis Live show. The Jomtien Boathouse opens every day from 8.00 am until Midnight.  There is ample parking space on Jomtien Beach Road.